Philip Cross: More evidence of agenda-driven Wikipedia editing
20 June 2018 (updated 7 July 2018)
Contents
---
Intro
Wikipedia arbitrators have finally opened a case to examine Philip Cross' editing. This has largely been due to the outcry from Cross' targets on Twitter and the story going viral on social media. Wikipedia editor KalHolmann has been the most active in pushing the issue through Wikipedia's labyrinthine dispute resolution process. The story has now also been picked up by the BBC: There's a 21 minute BBC World Service programme and articles in English and Spanish.
Cross' many years of agenda-driven editing had been brought to the attention of Wikipedia editors and admins before, but resulted in no action.
In addition to our two previous articles, we are adding more evidence here of Cross' agenda-driven Wikipedia editing. If you haven't been following the story, we suggest you start with our earlier pieces:
Time to ditch Wikipedia? A look at a Wikipedia editor's long-running campaign to discredit anti-war campaigners and journalists
---
Number of edits + authorship
When looking at Cross' edits, many are quoting stats on the number of edits he's made. It's easy to interpret these numbers as his overall influence on articles. But the number of edits alone don't give us the whole picture. It's possible to make a lot of small edits without significantly changing content (e.g. fixing formatting or minor mistakes). It's also possible to make a small number of edits but with more significant changes to content (e.g. introducing whole new sections or paragraphs in a single edit).

In the BBC article the authors write:
When it comes to Galloway's page, the Philip Cross account is responsible for 20.4% of all edits.
While that's true, if we look at how much of the content on Galloway's page can be attributed to Cross, it's over 60%.
Doing the same for some of Cross' other targets, we get these numbers (click on a name to see a screenshot with Cross' edits highlighted).
Percentage of content attributed to Cross
Piers Robinson — 79%
Peter Wilby — 78.5%
Media Lens — 77.8%
Seumas Milne — 68.6%
Craig Murray — 67.6%
George Galloway — 61.8%
John Pilger — 54.3%
Stop the War Coalition — 48.9%
Tim Hayward — 48.9%
Edward S. Herman — 47.4%
Ken Loach — 29.7%
Alex Nunns — 28.1%
Momentum — 27.3%
RT UK — 25.4%
Vanessa Beeley — 15.1%
Michael Rosen — 12.5%
Owen Jones — 10.2%
Matthew Gordon Banks — 9.5%
Ken Livingstone — 6.1%
Jeremy Corbyn — 5.2%
Note: We have not examined all of pages edited by Cross in producing this list, only a few of his targets. We used WhoColor to get these numbers and because Cross' edits have started getting a lot of attention, we ran the tool either on the most current version of each page at time of writing or on the last version edited by Cross in May (with the assumption that without the recent attention on social media, those edits would most likely still be in place).
---
Hostile editing of Media Lens
Most of the following has been contributed by Emma.
Cross has made 851 edits to the Media Lens Wikipedia page, 57% of total edits, making up almost 80% of all content on their page.
Cross opened his Twitter account in August 2011. His very first tweet, 15 August 2011, was directed at Media Lens and his second tweet was about their Wikipedia article.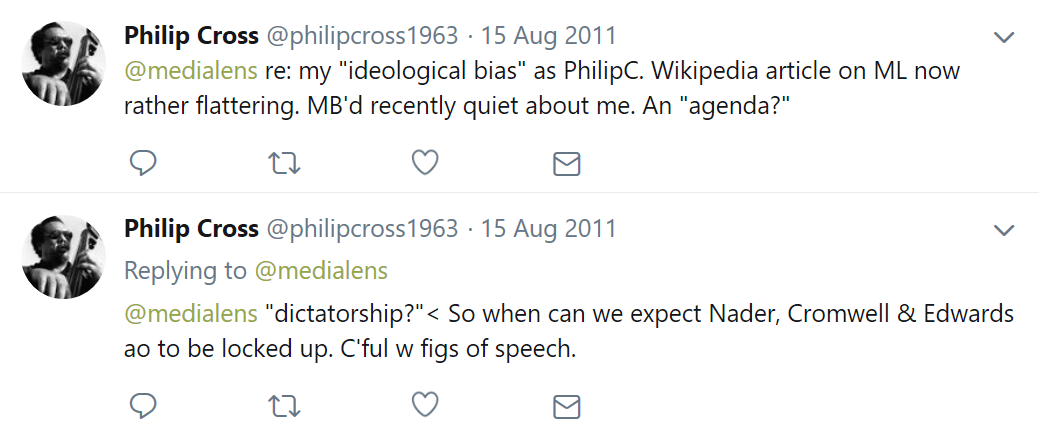 Neither drew a response and were followed by 24 further tweets over the next 3 hours. The only response he got was when he tweeted Oliver Kamm to advise he'd been blocked (which he hadn't).
Cross identifies himself as the Wikipedia editor who wrote most of the Media Lens article. His personal disdain for Media Lens is clear from his tweets.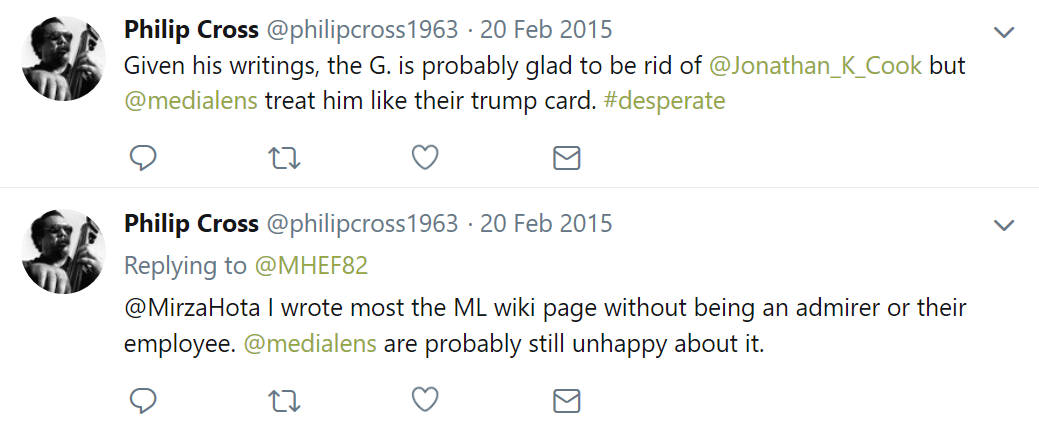 He has called Media Lens, along with others, "goons".

His trolling resulted in him being blocked by Media Lens on Twitter and Facebook.
This is a just a sample of his tweets, to show that he openly identifies as a Wikipedia editor, is engaged in a long standing feud with the subject of an article to which he is the main contributor:

Iraq Body Count project
Cross has made 13 edits to the Iraq Body Count project's Wikipedia entry. On 6 December 2016 he made 7 edits, mainly to remove references to Media Lens for reasons such as:
As Cross clearly feels they are so non notable, it seems odd that he would contribute 851 edits and so much time to writing their article, arguing on the talk pages and trolling them on various social media platforms.
Media Lens' work with regard to the Iraq Body Count project was covered by the BBC and FAIR, among others.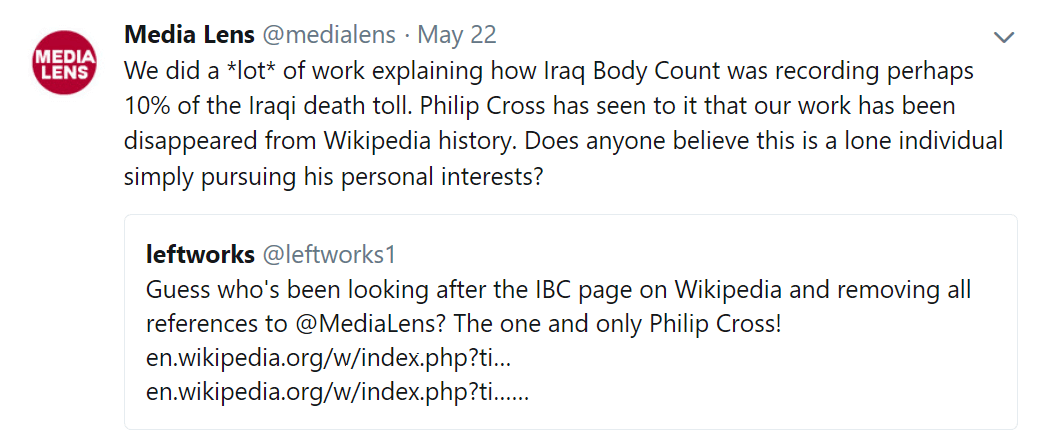 Removing references to Media Lens on other Wikipedia pages
It appears Cross searches Wikipedia periodically for mentions of Media Lens and does his best to remove them. Here are pages where he has removed or changed references to Media Lens:
This list is not exhaustive.
Wikipedia editor Huldra comments:
So Philip Cross removes any mention of Media Lens, with diffs like this, with edit line "rm fringe site, fails WP:IRS", this "fringe site, fails WP:IRS", this, again referring to WP:IRS. However, the only place what is a WP:RS can be decided (if it is disputed, like in this case), is at Wikipedia:Reliable sources/Noticeboard. That noticeboard is linked from WP:IRS, still Philip Cross constantly ignores the one time Media Lens was discussed there, namely back in 2010, when the consensus, as far as I read it, was that Media Lens could be used with attribution. These removals are clearly against policy. If these removals are done by ignorance, stupidity or malice; I have no idea and I will not speculate. In any case, they indicate to me that Philip Cross shouldn't be let near anywhere close to subjects pertaining to British policies.
Editing every mention of Media Lens, removing references and obsessing about the opinion of Oliver Kamm
Maybe it's legitimate, within the complex Wikipedia rules, to edit every mention and remove references - but what's his motivation for that? His reasoning changes depending on whether he's challenged or not.
It's not acceptable to go through every mention of Media Lens in other articles and qualify each one with 'anti-corporate', a politically-loaded term which does not even appear in this article. This is a flagrant breach of WP:NPOV [neutral point of view], as someone with 40k+ edits must know. Using uninformative ('sighter') or misleading ('fmt', 'tidy') edit summaries doesn't make these edits any more acceptable. Deplorable. Squiddy | (squirt ink?) 08:32, 2 July 2011 (UTC)
It seems that virtually everything added to this article by User:Philip Cross recently is a negative critic of Media Lens, he does not seem to even try to present anything neutral but is pushing a total bad view of this organisation. He is even removing on a regular basis other edits that have been put in to balance out all his negative stuff. I believe he is just pushing a POV [point of view] in all of this article..Wikipedia:Neutral point of view ..Zrdragon12 (talk) 08:47, 28 September 2012 (UTC)
Inclusion of material that does not discuss the topic of this article
I removed two sources that do not discuss the topic of this article on the basis that their is inclusion original research. The sources themselves offer no evidence that the material is relevant to the topic of this article (how can they they do not discuss the topic). The material was restored by an editor claiming that the material is "relevant to the ML [Media Lens] clash with the Guardian" but this claim is entirely the original research of the editor in question, it is not something that is indicated by the sources.

WP:OR [No original research] states that: "To demonstrate that you are not adding OR [original research], you must be able to cite reliable, published sources *that are directly related to the topic of the article,*" These sources do not mention the topic of the article, thus they are not directly related to the topic of the article. This is clearly OR [original research] and needs to be removed. Dlv999 (talk) 16:38, 7 March 2013 (UTC)
Article issues and the Oliver Kamm obsession
WP:BLP [Biographies of living persons]: Accusations that can only be sourced to self-published articles by ML [Media Lens] against living persons should not be included per WP:BLP. I don't think this is a major issue as they have written several books which cover the notable issues and on the notable issues their work/views is cited by third parties. Regarding BLP violations against ML, the current article also contains some outrageous claims against the Edwards as well as other living people:-

"Oliver Kamm has been blunt, Media Lens "stands with genocide deniers" in its connection with Herman and his colleague, David Peterson"

"The Times commentator Oliver Kamm, has claimed that their apparent denial of genocidal acts utilises the same methods used by Holocaust deniers such as David Irving."

The only source for these allegations is an Oliver Kamm Blog.[1] WP:BLP requires that an allegation must be noteworthy, relevant, and well-documented to be included. The standard for proving this is that multiple third party reliable sources have reported it ("If you cannot find multiple reliable third-party sources documenting the allegation or incident, leave it out.") In this case we only have one non-third party source (from someone in a longstanding ongoing dispute with those he makes the allegations against). The sourcing does not meet the required standard, and given the nature of the allegation it should be removed until it can be shown to be supported by multiple third party reliable sources. Dlv999 (talk) 13:10, 21 March 2013 (UTC)
Absolutely, Dlv999. The Kamm-krapp should have come out long ago (it's OR [original research], in addition to the reasons you cite). I thought about taking it out, but realised a whole lot else would need to be changed as well and my wiki time is limited for now, so I left it. Thanks for your efforts here, and elsewhere on Wikipedia. --NSH001 (talk) 17:32, 21 March 2013 (UTC)
The Kamm blog is a primary source according to our core policy which states "examples of primary sources include.... editorials, columns, blogs, opinion pieces..." Just because a blog/opinion makes reference to another work does not make it a secondary source.
The Monbiot article does not support the BLP-violating Kamm allegations - "their apparent denial of genocidal acts utilises the same methods used by Holocaust deniers such as David Irving."
The White piece does not support the BLP-violating Kamm allegations.
Your other points appear to be Red Herrings that have no relevance to the point under discussion (the sourcing requirements under WP:BLP for allegations against living people). If you want to raise these issues start a new discussion and I will happily discuss them with you. The issue here is that WP:BLP states that multiple third party reliable sources are required to indicate that an allegation is notable and relevant for inclusion of BLP content. We only have one primary source from an involved party. The claims are particularly egregious so I think it important that we adhere to our policy in this case. If you can find the requisite "multiple third party sources" I have no problem including the allegation, but until then it should be removed. Dlv999 (talk) 16:36, 29 March 2013 (UTC)
---
Hostile editing of Craig Murray
Craig Murray is an author, human rights activist and former ambassador. Cross has called him a 'goon' on Twitter.
According to stats submitted by another Wikipedia editor, Craig Murray's Wikipedia page has been Cross' most edited BLP (Biographies of living persons) page in the last year. Overall it is his 10th most edited Wikipedia entry. WhoColor calculates that Murray's Wikipedia entry on 9 May 2018 (the last version edited by Cross at time of writing) contained almost 70% content from Cross, making him the top editor of the page by a long margin (the editor in second place contributing only 2.9%).
Murray has been quite vocal about the edits made to his page by Cross, and has posted quite a lot about it on his site. Here's a sample of the kind of edits Cross has made to Craig Murray's page:
Removal of photo
Cross removes Murray's photo from the article's infobox because he claims it's "untypical"...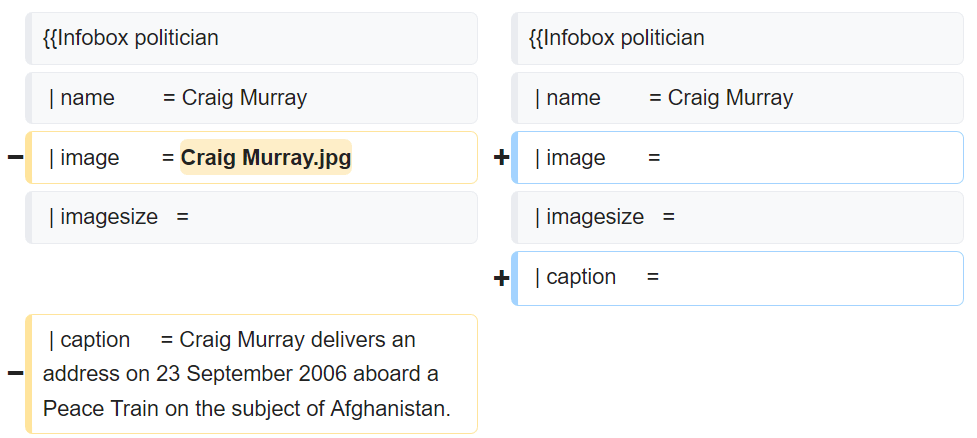 ...and then adds it back in one month later with no explanation.

Double standards on trivia
Cross removes trivia he doesn't like...

...but gleefully adds trivia he finds "irresistible".

Removing Murray's response
In a section criticising Murray for naming one of Assange's accusers, Cross removes a plausible explanation given by Murray for doing so...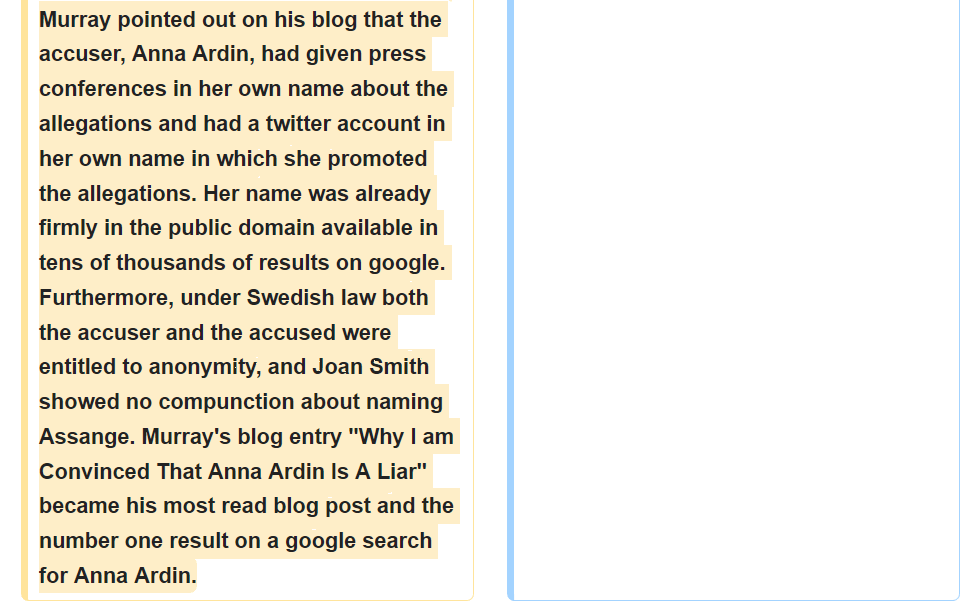 ...and instead chooses to add to the criticism by quoting someone else's opinion.

Cross justified his deletion of Murray's explanation in a later discussion by citing Wikipedia's rules on reliable sources: "Obviously, there is no reliable, third party, source for Murray's claims." As another editor points out: "Obviously, so long as the material is presented in the article as a set of statements made by Craig Murray on his blog, the blog itself is a sufficiently reliable source. Those statements which had not beeen presented as something he had written, could easily have been recast to conform."
Cross generally removes positive information and adds in lots of criticism and trivia: 1, 2, 3, 4.
---
Hostile editing of Seumas Milne
Cross is responsible for almost 70% of content on journalist Seumas Milne's Wikipedia page. Here is a small sample of his edits.
September 2016: Add attacks from Nick Cohen and James Bloodworth
Cross adds two attacks on Milne from Nick Cohen and James Bloodworth: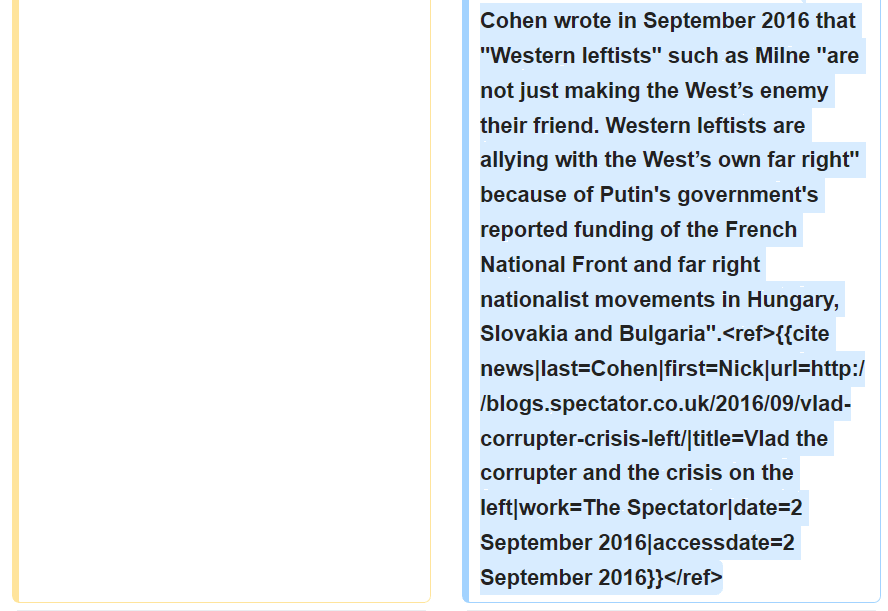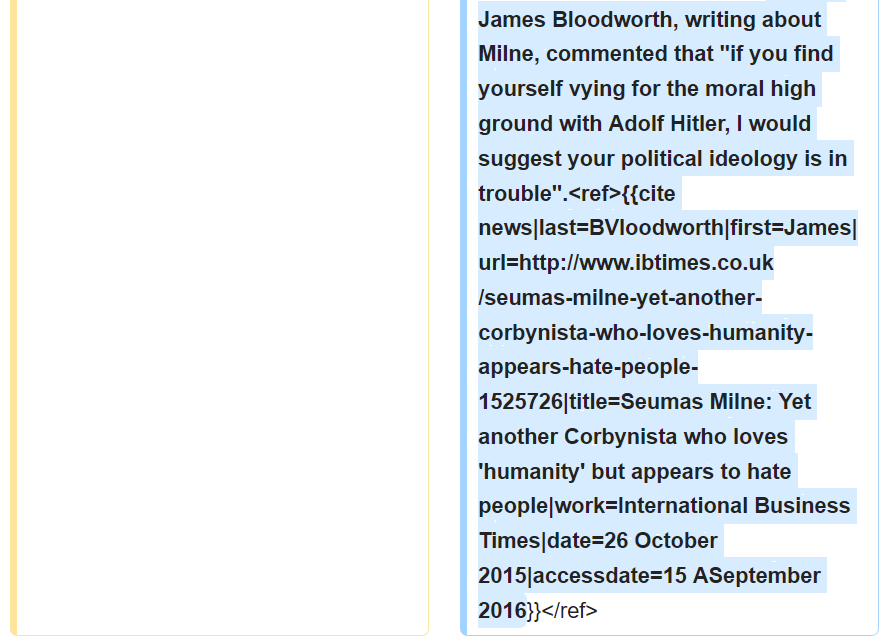 Wikipedia editor N-HH writes on Milne's Wikipedia talk page:
Half of this, especially the latter parts, appears to be not about his views, but other people's views of his views. And, surprisingly enough, these mostly amount to critical and pithy comments from people hardly likely to be anything but hostile (eg Melanie Phillips, Nick Cohen etc – whose pages, as it happens, don't have the same treatment, even though they are just as controversial, if not more so), often sourced to newspaper blogs and op-ed columns. More or less none of them, apart from possibly the Brian Whitaker comment, is an attempt at substantive and rational third-party explanation or analysis of Milne's positions, which would actually be interesting and encyclopedic. N-HH talk/edits 11:00, 28 September 2016 (UTC)
And the bigger problem in my view is editors finding lots of negative but ultimately trivial media commentary from political rivals and/or opinionated columnists about a subject they dislike and shoving it into the article, then claiming "RS!" [reliable source]. WP, as noted here and elsewhere, is an encyclopedia meant to explain what something or who someone is, not an opinion summariser or repository of passing commentary about that topic or person by people who dislike them (or like them), especially when that feeling is probably reciprocated. No encyclopedic value is created by having X's page say, "X thinks this, but Y disagrees with them and thinks they're stupid"; nor by having Y's page say in turn, "Y thinks this, but X disagrees with them and thinks they're stupid".

As I say, polemical and partisan commentary and criticism that don't actually add anything to understanding who Milne is or what he thinks should be gutted from this page, just as they should be from any other. The quotes from Philip Collins, Stephen Pollard, Oliver Bullough, Alex Massie and James Bloodworth, among others, all fall within that. They present no information about Milne; they're just slagging him off in broad terms, while putting forward their own, different, views. You seem to be starting from the assumption, here as in other places, that this page need to include direct criticism (or defence) of his appointment and/or his views. I don't accept that assumption. I'm not asking for similar but positive commentary to balance it. N-HH talk/edits 15:26, 28 September 2016 (UTC)
Another Wikipedia editor concurs:
@N-HH: I, too, have just read the Milne article and reached the same conclusion. Much of it seems merely a hatchet job: X says something bad about Milne, Y says something, Z agrees with X and Y, and also thinks something else negative. Try writing an article like this on a right-winger, see how far you get! Philip Cross seems to have a rabid dislike of Milne, and is prepared to throw down as much bile as he likes and then cling to WP:RS. I mean, even the tone is wrong, dispensing with WP:SAY when it is deemed desirable (when quoting a critic of Milne, not quoting something that Milne says). --BowlAndSpoon (talk) 10:06, 15 October 2016 (UTC)

There's no justification for half the commentary currently included on the page, but I doubt any removal will last. Too many WP contributors want pages to slag off people they don't like, and once they learn how to hide behind a narrow reading of RS, there's not a lot that can be done about it. N-HH talk/edits 10:46, 15 October 2016 (UTC)
May 2018: Connect Milne to Putin again, remove positive commentary
In May 2018, Cross returned to Milne's page to add more attacks trying to link Milne to Putin, with no evidence: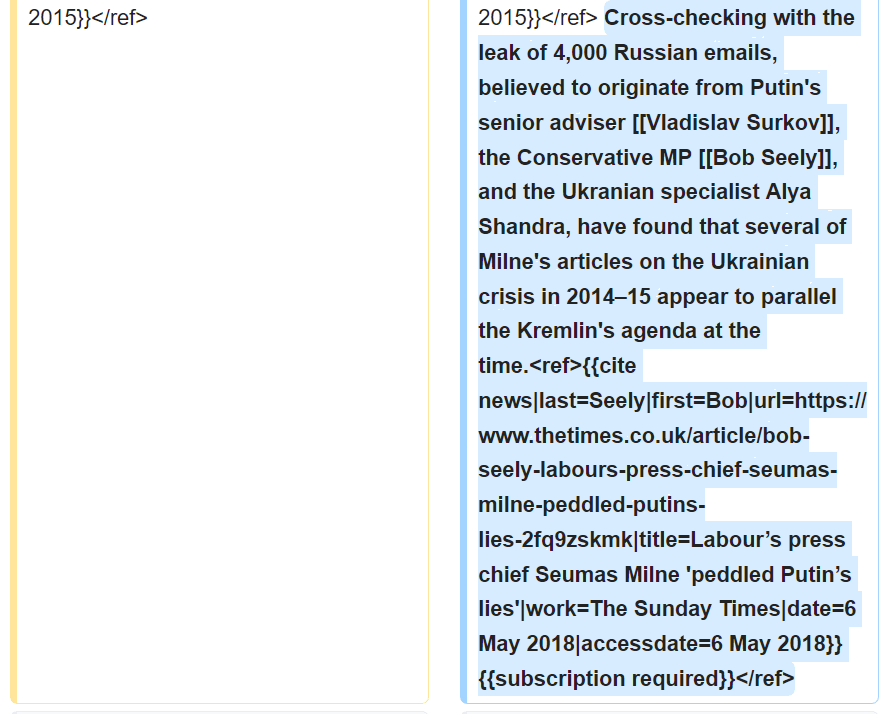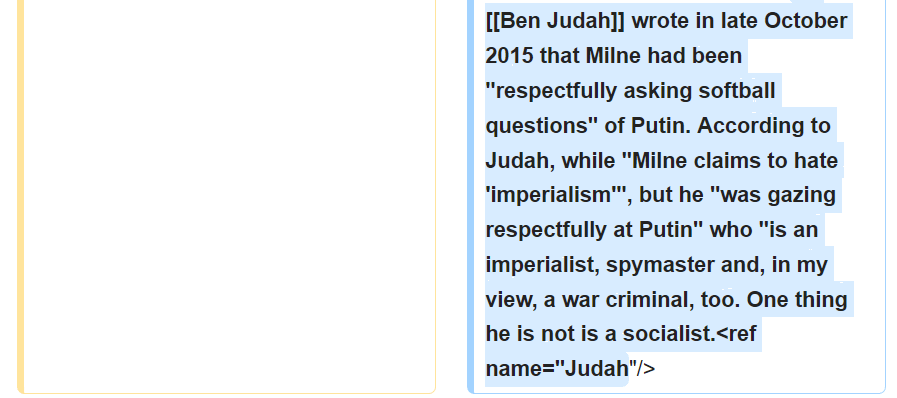 Not content with adding two baseless attacks, Cross goes on to remove commentary defending Milne. First Owen Jones writing in the Guardian in defence of Milne, then Joe Emersberge for TeleSUR: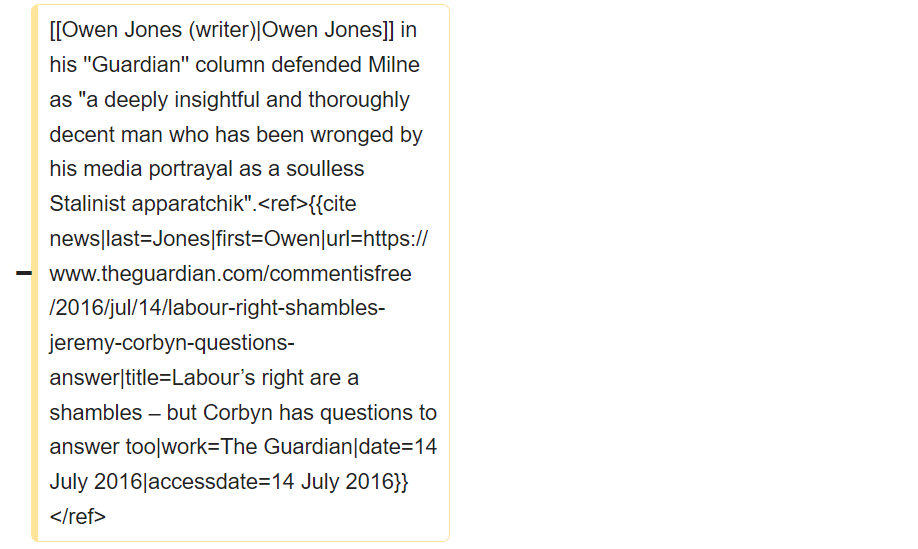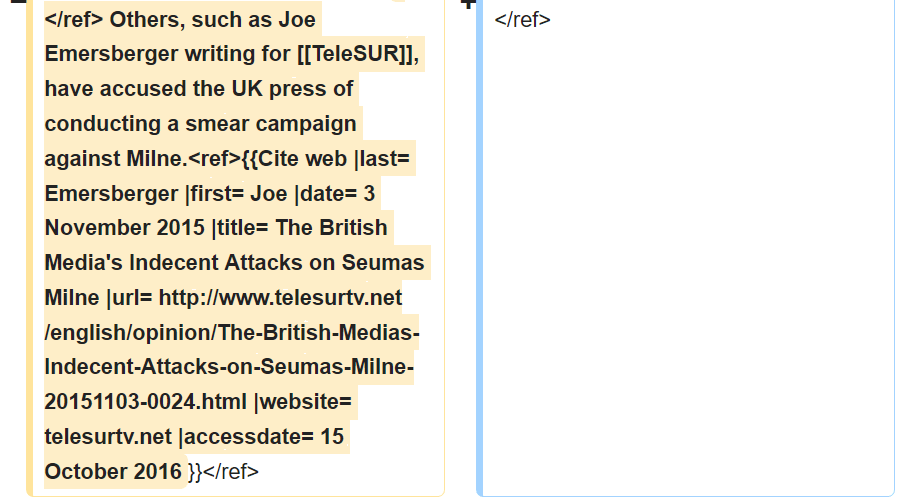 Wikipedia editor N-HH returned to the talk page to say:
Further to the above, I see Philip Cross has been back on this page again this month, reinserting lots of polemical negative media commentary, and then immediately removing positive commentary. You can't really be more blatant than this. As discussed previously, this is a pathetic and totally uninformative way to go about creating a BLP, twice over: an encyclopedia entry about a person is not meant to be a "review" of the subject based on an aggregation of general media commentary on them (whether positive or negative) and certainly not one selectively sourced solely to reflect negative viewpoints. If PC can't edit a page with any sense of either a) how to write a factual bio that actually offers information about the subject rather than about other people's random views of them or b) how to write disinterestedly and neutrally, they shouldn't be editing that page. As people are beginning to notice, this is a problem with his behaviour across WP. N-HH talk/edits 21:34, 24 May 2018 (UTC)
Attempts so far by Wikipedia editor N-HH to remove Cross' baseless attacks on Milne from Wikipedia have failed. Wikipedia editors ZinedineZidane98 and Mezigue have re-inserted these attacks and made no effort to engage in the discussion on the relevant section of Milne's talk page.
---
Hostile editing of Neil Clark
We've written before about Cross' hatred of Neil Clark. We're adding some more evidence here contributed by Emma.
1 January 2007: Cross calls Clark a "stalinist sh1t" on Wikipedia

17 January 2007: Clark is "controversial" and a "defender of mass-murderers"
Cross inserts baseless attacks against Clark without providing any sources.

22 January 2007: Uses Oliver Kamm's blog posts to justify his attacks

Cross's attitude to Clark on Twitter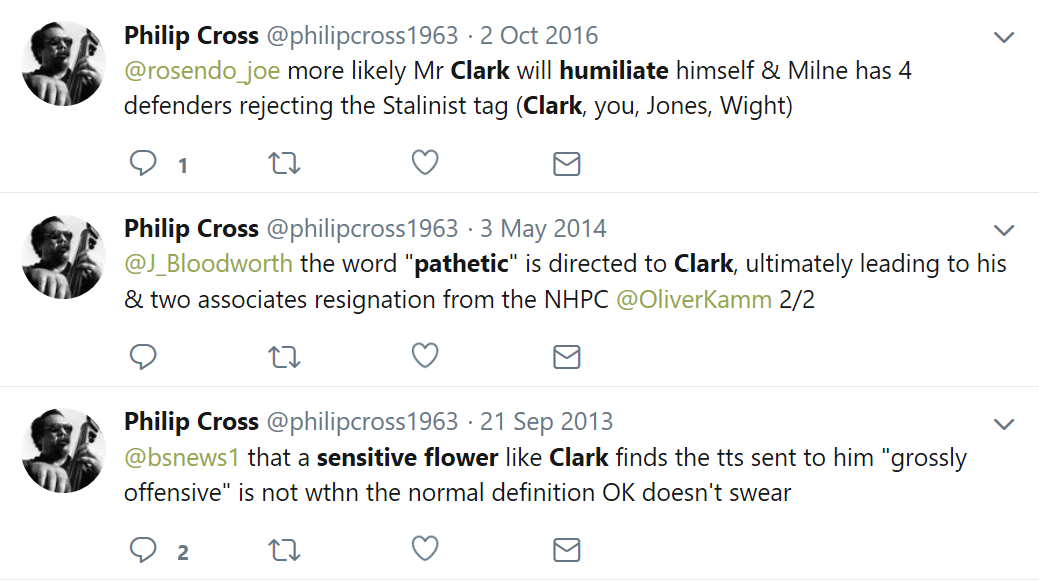 Click image for more examples.
Wikipedia serving as conduit for Cross' animosity
It's clear from reading Cross' edits and tweets, he's deeply hostile toward Neil Clark. On his blog, Cross writes
I might have to rename this blog "Neil Clark Watch" at some future juncture.
When Clark's article on Wikipedia was marked for deletion, along with all of Cross' baseless attacks on it, Cross appealed to his readers, suggesting they create Wikipedia accounts to try and save it:
An appeal

It is important as much information as possible is freely available on the internet, and easily accessible too. In this context I was saddened to discover that the Wikipedia article on the British journalist Neil Clark is up for deletion again. A previous attempt in the summer of 2007 was successful, but the article rightly reappeared a few months later.

I urge readers to oppose the deletion of the article on Neil Clark. If you do not have a Wikipedia account, they can be created quickly. The Afd (Article for deletion) tag was added to the article today, and will be carried out in a week's time unless there is sufficient opposition. A pity if the article should go, because Clark's peculiar politics need to be detailed, and he is more than significant enough to be the subject of one article out of three million. An interest should be declared, the present writer heavily contributed to the article under discussion.
See also other articles on Cross' blog mentioning Neil Clark.
Removing references to Clark from other Wikipedia pages
Having failed to save Clark's page from being deleted from Wikipedia, Cross turns his attention to references to Clark on other Wikipedia pages. In 2012 he removes two links to Clark's writing published by the Guardian and the New Statesman about the author Erich Fromm:

His reason? "reduced link farm". These were the only two links to articles published by mainstream news sources listed in the 'External links' section of the page.
Cross' edits to remove Clark's work are interesting because, as can be seen above, Clark has articles in mainstream publications. So Cross' favourite excuse for removing things he doesn't like ("unreliable source") can't be used. His edit notes therefore become a little more confusing and deceptive in some cases:
Although Clark's Wikipedia page was deleted, it is temporarily available for anyone interested in looking at its edit history. Emma has documented some of the more interesting ones: part 1, part 2.
---
Cross' fixation with Oliver Kamm
A common theme in Cross' editing is his fixation with Iraq war supporter and former hedge-fund manager Oliver Kamm. Many of Cross' edits to people on Wikipedia occur right after Kamm has tweeted about them. And if Kamm criticises someone, Cross will often insert Kamm's criticism into their Wikipedia page.
Cross adding Kamm to Wikipedia pages
If we search Wikipedia for articles that currently mention Oliver Kamm, we get 58 results (we have removed results referring to others with the same name). Here are the articles from this list in which the Cross account was first to introduce Oliver Kamm into the text:
If we also look at articles where Cross wasn't the first to mention Kamm, but still made Kamm-related edits, we get the following:
This doesn't include attempts by Cross to insert mentions of Kamm into Wikipedia which were then reverted (we haven't looked for those). But going by this list, we can see that in over 5 million articles on Wikipedia, Kamm is mentioned in 58 of them. Of those 58 articles, Cross has made Kamm-related edits to 19 of them (over 30%), and was first to insert Kamm in 12 of them (over 20%).
By comparison, Cross has removed mentions of Media Lens in at least 32 Wikipedia articles (see section on Media Lens). A current search for Media Lens on Wikipedia returns only 22 results.
Kamm's history
In addition to adding mentions of Kamm, Cross is also diligent in protecting Kamm's page on Wikipedia from any criticism. There's a lot about Kamm that Wikipedia readers won't learn thanks to Cross' protection of his page. In their fascinating, eye-opening article The Oliver Kamm School of Falsification: Imperial Truth-Enforcement, British Branch, the writers David Peterson and Edward Herman examine some of Kamm's activities. Here's an excerpt:
Kamm as Attack-Dog

As noted, one feature of the Kamm pathology is the vendetta, and in pursuit of his vendettas, Kamm displays few constraints. With Chomsky as his primary target, Kamm has sustained a remarkable barrage of attacks in many venues over many years, the name 'Chomsky' having been mentioned in Kamm's blog a remarkable 1,887 times from its inception on August 24, 2003 through the end of December 2009.34 At one stage in his career, Kamm went so far as to post negative reviews to the Amazon.com website of at least 19 books by or about Chomsky, rating all 19 of them with one star, the lowest possible for a reader's review of a book at Amazon.com.35 We believe that Kamm's vendetta against Chomsky can be explained not only by the fact that Chomsky is a powerful critic of U.S. and U.K. imperial policies, and of Israeli atrocities and ethnic cleansing, but also because Chomsky believes that, to be meaningful, the world's rules must apply to the greatest powers with as much force as they apply to the least, or else be rejected as masks behind which forms of coercion hide. Surely this must grate on a man such as Kamm, who works from the opposite premise: That the U.S., U.K., and Israel are above the law, and must never be subjected to the same rules as they impose upon other states; as "democracies," their actions are moral and always responses to somebody else's misbehavior, and they are properly the global policemen and enforcers of law and order internationally.

But Chomsky is far from alone as a victim of Kamm's vendettas. In the case of the leftist British writer Neil Clark, who once published a critical review of Kamm's book Anti-Totalitarianism in the Daily Telegraph (U.K.), not only did Kamm descend to his standard stream of accusations (e.g., Clark is a "pro-Milosevic blogger and female impersonator," "an ignoramus and faker," "a fabulist, a fantasist, a faker and a fabricator," and so on36), but, according to Clark, Kamm also sent pseudonymous emails to Clark's commissioning editors, pretending to be third parties calling the editors' attention to the attacks on Clark in Kamm's blogs, and repeatedly leaving defamatory comments on Clark's Wikipedia entry, eventually forcing the Wikipedia editors to delete the entry, among other attack-dog tactics.37 A glance at a number of Clark's writings online shows that Kamm seeks out websites where Clark's writings appear, and then posts the same allegations against Clark over and over again, no matter how off-topic these allegations are.38 Incredibly, such recidivist stalking-behavior seems not to have tarnished Kamm's reputation with The Times or other British publications.39
A link to this article was removed by Cross from Kamm's page.
Media Lens have also written about Kamm's attacks on them in their piece Dancing on a Mass Grave - Oliver Kamm of The Times smears Media Lens. What do we find if we check the Media Lens and Oliver Kamm Wikipedia pages?
The word 'Kamm' appears in the @Wikipedia entry for Media Lens twelve times. 'Media Lens' appears in Oliver Kamm's entry....zero times. Just one reason why @jimmy_wales's focus on 'diffs' as evidence of bad faith is misplaced. -Media Lens tweet
In an article in Mondoweiss, Theodore Sayeed describes how the Henry Jackson Society (HJS) enlisted Kamm to attack and smear Chomsky:
When Chomsky was voted by readers of Prospect magazine in 2005 as the most important intellectual alive, a journalist sympathetic to their cause interviewed Chomsky for the Guardian in which, amid a litany of sneering comments about her interview subject, he was quoted as saying that no massacre took place in Srebrenica. The quote was a fake. After complaints from readers and Chomsky alike, the Guardian retracted the piece, pulled it from its website, and disowned the accusation as baseless.

The HJS sprang to action. It sought to overturn the Guardian's decision and spread the story to other publications. The record of the HJS meeting shows its tactic was to feed damaging allegations to friendly journalists, newspapers, magazines, and, in a novel twist to the methods of neoconservatives, leaders of Muslim organisations, putting it about that Chomsky is a pro-Serb propagandist who covers up crimes against Bosnian Muslims.

The task of getting this slur into circulation was delegated to Marko Attila Hoare and Oliver Kamm. Among the papers chosen to carry the charge were the Guardian, the Times and the Spectator magazine.
Removal of criticism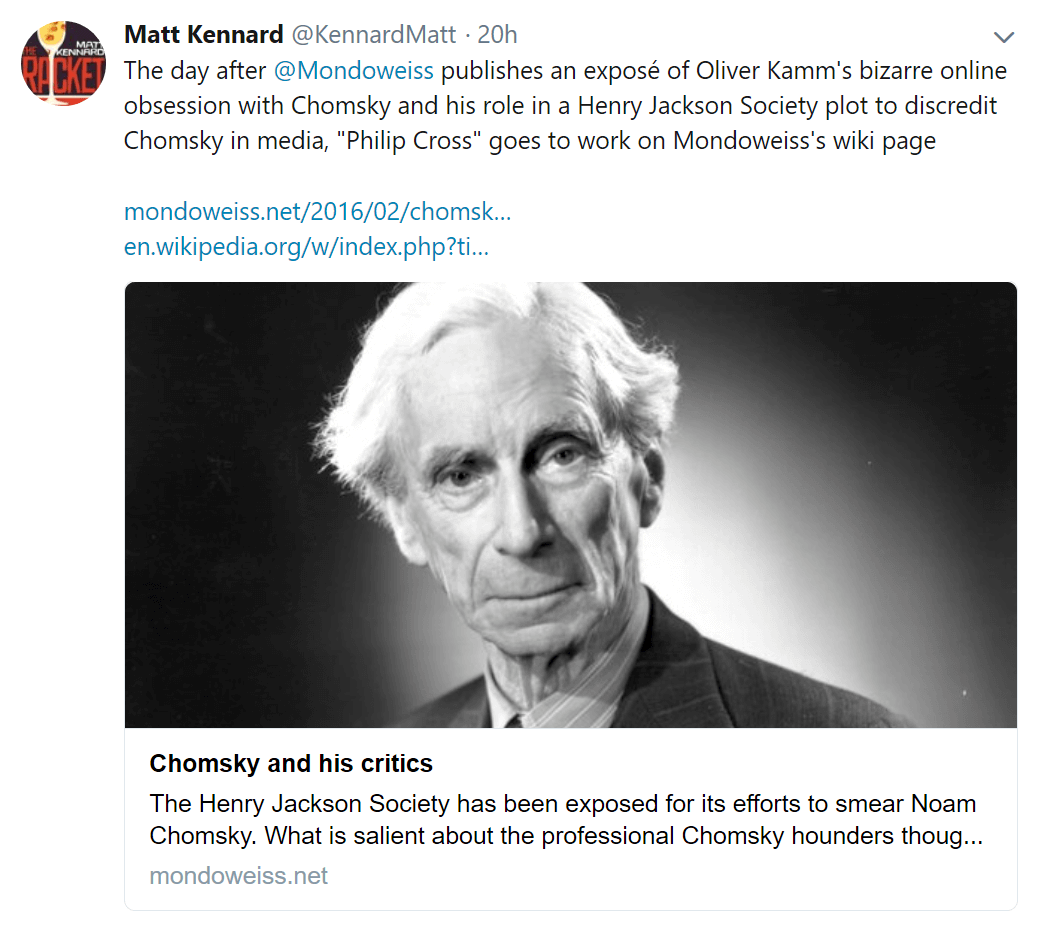 The Mondoweiss article quoted above was published on 19 February 2016. The day after, a Wikipedia editor references it along with Herman and Peterson's article also quoted earlier. One hour later Cross reverts the edit, writing "Fringe article which libels Kamm". It gets re-added later the same day, and Cross reverts again, commenting "insanitary articles". It gets added again the next day, and again Cross removes it, writing
Herman is a disreputable figure on immediately relevant issues; the Mondoweiss author indulges in conspiracy theories, ignores material sustaining Emma Brockes article on Chomsky & makes errors of fact, plus both MW&MRzine are dubious websites
These "dubious websites" are currently referenced in hundreds of Wikipedia articles:
According to WhoColor, Cross was responsible for more than 50% of the content on Kamm's page on 25 May 2018, the last version edited by Cross at time of writing.
After the Philip Cross story started getting attention, a Wikipedia editor removed most of Cross' contributions to Kamm's page, writing:
This was not a WP article, but somebody's essay about him, picking this column by him or that one to weave a story. That is not what we do here. Like a lot of pundits there are not a lot of sources that just describe him that we can summarize. Hm. Jytdog (talk) 02:06, 1 June 2018 (UTC)

Asked to clarify his connection to Cross, Kamm has not responded.
---
Luke Harding
Guardian journalist Luke Harding has written books criticising Russia and Julian Assange. Philip Cross edits Harding's Wikipedia page to protect it from criticism.
Assange has written about Harding in the Newsweek article How 'The Guardian' Milked Edward Snowden's Story:
The Snowden Files: The Inside Story of the World's Most Wanted Man (Guardian/Faber & Faber, 2014) by Luke Harding is a hack job in the purest sense of the term. Pieced together from secondary sources and written with minimal additional research to be the first to market, the book's thrifty origins are hard to miss. ... The Snowden Files positions The Guardian as central to the Edward Snowden affair, elbowing out more significant players like Glenn Greenwald and Laura Poitras for Guardian stablemates, often with remarkably bad grace.

"Disputatious gay" Glenn Greenwald's distress at the U.K.'s detention of his husband, David Miranda, is described as "emotional" and "over-the-top." My WikiLeaks colleague Sarah Harrison—who helped rescue Snowden from Hong Kong—is dismissed as a "would-be journalist."

I am referred to as the "self-styled editor of WikiLeaks." In other words, the editor of WikiLeaks. This is about as subtle as Harding's withering asides get. You could use this kind of thing on anyone.
Plagiarism
In 2007 Harding was found to have plagiarised the work of journalists at The eXile. Assange writes:
Plagiarist of the Year

Notoriously, as the Moscow bureau chief for The Guardian, Harding used to ply his trade ripping off work by other Moscow-based journalists before his plagiarism was pointed out by The eXile's Mark Ames and Yasha Levine, from whom he had misappropriated entire paragraphs without alteration. For this he was awarded "plagiarist of the year" by Private Eye in 2007.
The Guardian printed an apology:
The following apology was printed in the Guardian's Corrections and clarifications column, Monday August 20 2007

The introduction to the article below included three paragraphs that were substantially similar to paragraphs contained in the introduction to another, earlier, article, published in May, in the Exile - an English-language newspaper based in Moscow. We should not have used material from the Exile in our introduction without quoting and crediting it properly and we apologise to the Exile for this error.
Philip Cross removes the section on this incident from Harding's Wikipedia page:

There is at time of writing still no mention of this incident on Harding's Wikipedia page.
Removing significance of revealed Wikileaks password
Assange writes:
Harding was also the co-author of 2011's WikiLeaks: Inside Julian Assange's War on Secrecy, another tour de force of dreary cash-in publishing, which went on to be the basis for Dreamworks' catastrophic box-office failure: 2013's The Fifth Estate.

Harding's co-author on that book—the self-styled former senior Guardian editor David Leigh—is absent in The Snowden Files. This is good: In writing about his work with me on the WikiLeaks material, Leigh chose—over my explicit warnings—to print a confidential encryption password as a chapter heading, undoing eight months of our work (and of over a hundred other media organizations) and resulting in the dumping of hundreds of thousands of State Department cables onto the Internet without the selective redactions that had been carefully prepared for them.

In a Goebbelsian projection, Leigh and The Guardian promptly blamed me for this. Harding repeats the libel without irony in The Snowden Files.
Cross removes text describing the significance of the password disclosure, claiming it's "unnecessary elaboration":

There is currently no mention at all of the disclosure on Harding's page.
Aaron Maté interview: Where's the 'Collusion'?
Aaron Maté interviewed Luke Harding about his book Collusion: Secret Meetings, Dirty Money, and how Russia Helped Donald Trump Win for the Real News. The interview did not go well for Harding.

Cross removes mention of the interview from Harding's Wikipedia page:

There is currently still no mention of it on his page.
Guardian collusion?
In addition to Cross' work shielding Harding's page from criticism, we also have Harding's colleague Dina Nagapetyants stepping in to help out. Her account on Wikipedia has only been used to edit Harding's page. She has shared bylines with Harding in the Guardian since 2016.
Furthermore, Harding's Wikipedia page's edit history shows two edits from an IP address (77.91.250.203) belonging to his employer the Guardian. Both edits removed mention of Harding's plagiarism from his page:
12:00 17 June 2016: "Non-notable...please refer back to edits made by senior wiki editor phillip cross"
15:55 17 June 2016: "Not notable enough to be worthy of a heading on a Wikipedia page."

A Wikipedia editor tried to alert Wikipedia admins in 2017:
I note that the user DinaNagapetyants who removed the section about the proven plagiarism by the professional anti-Russian journalist Luke Harding, a plagiarism that was admitted and apologised for by the Guardian, where the plagiarised material was published, is herself a writer for the Guardian who co-wrote an anti-Russia article with Mr Harding.

https://www.theguardian.com/world/2016/jun/20/natalia-potanina-vladimir-potanin-ex-wife-russia-richest-men-divorce

Surely this conflict of interest should have been declared at the very least? It's a clear abuse in my opinion: censorship of an embarrassing but obviously notable fact - because proven and well-sourced (see the talk page) plagiarism by a notable journalist is always notable - by a person who 1) professionally collaborates with the article's subject in his explicitly partisan (in Mr Harding's case, anti-Russian) journalistic discourse, 2) by co-writing articles for the same employer who 3) published the plagiarism and apologised for it, and 4) without this clear non-neutrality being disclosed.

To be clear, Dina Nagapetyants has two undisclosed conflicts here, her relationship with the Guardian and her relationship with Mr Harding.

Consider this a complaint against Dina Nagapetyants as well as a request for the reinstatement of the suppressed material in some form. I think Dina Nagapetyants should also disclose if she discussed her edits of Mr Harding's page with Mr Harding.

Dina Nagapetyants has also made her pro-Harding bias clear on her talk page https://en.wikipedia.org/wiki/User_talk:DinaNagapetyants where she rejects criticism (not from me) of her evident bias on the Luke Harding article. For example: "for his recent book Mr. Harding has received universal acclaim" - an egregiously sycophantic claim that is factually false - no partisan work receives universal acclaim.
No action was taken by Wikipedia admins from what we can see. At time of writing Harding's page contains hardly a word of criticism, let alone mention of these facts. Compare Harding's page with some of Cross' targets and the difference is stark.
---
A balancing act?
Faced with the evidence of Cross' relentless attacks on his targets, some people still claim that this is simply how Wikipedia works. Biased, opinionated editors with opposing views battling it out to reach some equilibrium.
What people from this camp overlook or willingly ignore is the fact that not everyone has the time, inclination or resources to edit Wikipedia. Someone attempting to challenge Cross in between work shifts, for example, is not going to get very far when Cross is spending every day of the week, morning and night, editing the site.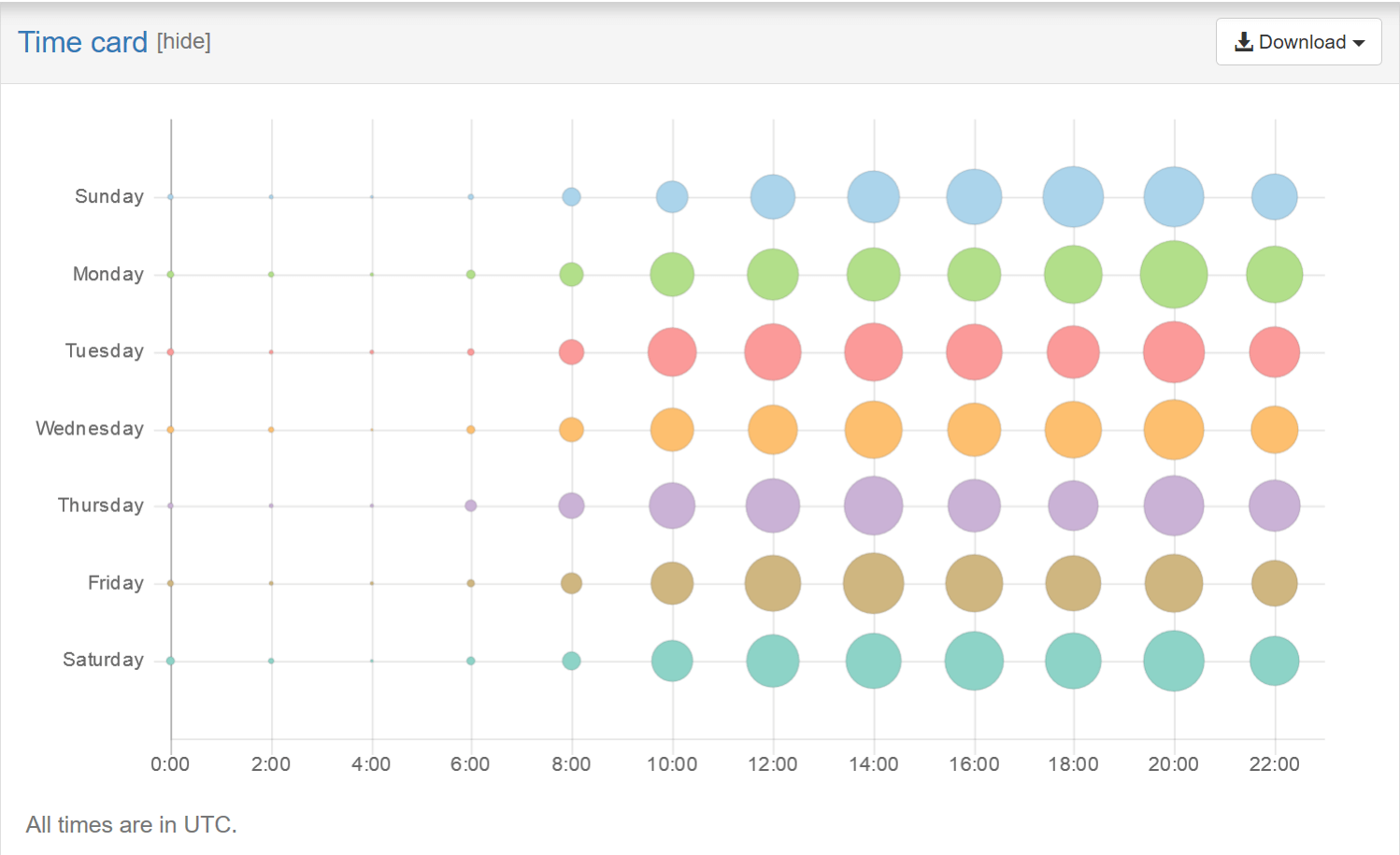 Cross' Wikipedia time card
There are also those with more money and resources who not only can wield more influence on the site, but have been found to do so. PR firm Bell Pottinger is one example. (Incidentally, the Editorial Director of PR firm 89up was Cross' first follower on Twitter.)
Nearly All of Wikipedia Is Written By Just 1 Percent of Its Editors
In an article looking at the number of editors contributing to Wikipedia, Daniel Oberhaus writes:
In the early days, when there were only a few hundred thousand people collaborating on Wikipedia ... the content production was significantly more equitable. But as the encyclopedia grew, and the number of collaborators grew with it, a cadre of die-hard editors emerged that have accounted for the bulk of Wikipedia's growth ever since.

Matei and his colleague Brian Britt, an assistant professor of journalism at South Dakota State University, used a machine learning algorithm to crawl the quarter of a billion publicly available edit logs from Wikipedia's first decade of existence. The results of this research, published September as a book, suggests that for all of Wikipedia's pretension to being a site produced by a network of freely collaborating peers, "some peers are more equal than others,"
The number of active editors in general has also been on a decline since 2006... As detailed in a 2013 feature in the MIT Technology Review, the decline of active editors with more than 10 edits under their belt has been attributed to the increasingly bureaucratic nature of the editing process.
Wikipedia wars: inside the fight against far-right editors, vandals and sock puppets
In a more recent article looking at the challenges faced by Wikipedia, Justin Ward writes:
Though Wikipedia has more than 32 million registered users, only around 130,000 have used the site in the past month. The task of guarding against vandalism and bias generally falls to a much smaller core of veteran editors and admins. The sheer volume of activity — 10 edits per second and 600 new pages created daily — can easily outstrip Wikipedia's capacity to police its content.

There's an ever-present threat that an organized faction or a group of single-purpose editors working in concert can exploit Wikipedia's mechanisms to tilt its point of view in favor of a fringe perspective.
One of the bedrock principles of Wikipedia is the assumption of good faith. Unless there is evidence to the contrary, edits are assumed to be made with the intent of improving the encyclopedia. Editors who attempt to insert their ideological bias but maintain the semblance of civility are given the benefit of the doubt until their disruption becomes apparent enough to warrant action by administrators. Civil POV-pushers can disrupt the editing process by engaging other users in tedious and frustrating debates or tie up administrators in endless rounds of mediation. 

---
Evidence submitted to Wikipedia's arbitration committee
The following sections were originally posted to the Arbitration committee's evidence page. We are reproducing a few of them here for readers. Some are reproduced abbreviated.
On 20 May 2018, in introducing this dispute to the Administrators' Noticeboard, admin JzG did his best to minimize and trivialize it, referring to "a lot of noise about Philip Cross on the internet, with implausible claims of COI and such, and it is pretty clear that he's engaged in a Twitter spat with some of the subjects of articles he's edited. That may well not be a problem at all." One of those subjects is British politician George Galloway. Just six days before, Cross had tweeted to Galloway, "George, I'm talking to you punk." He also acknowledged Galloway as one of "the goons" with whom he is feuding, and 41 minutes later admitted, "Well I have a big COI now, so I probably won't edit their articles very much in future." Nevertheless, four days later, Cross again edited Wikipedia's BLP of George Galloway. JzG, however, mentioned none of this background, instead writing in a distinctly non-neutral tone that George Galloway "is without question a controversial figure, and not in a good way." In his opening statement, JzG added that "Galloway is a divisive and marginal figure with more enemies than friends." Concluding his introduction, JzG dismissively wrote that he was "rather leaning to" the view that this dispute was merely "a nothingburger."

Despite the admin's prejudicial framing, however, the ensuing lengthy discussion by numerous editors gradually uncovered the beef on that burger. Two days after initially declining the case, arbitrator BU Rob13 struck his decline, explaining, "When I wrote it, this had been presented as a relatively simple issue on a narrow topic of Galloway. It's clear that's no longer the case. In particular, the claims of long-term POV pushing may warrant a look." A week later, BU Rob13 voted to accept the case "to examine the issue of COI/BLP editing by PC more broadly."

The keyword is broadly. At the Administrators' Noticeboard, discussion of a proposed topic ban was closed by admin Primefac, who found general support for "an indefinite topic ban" on Philip Cross editing the George Galloway BLP. Upon being notified of this ban, Philip Cross was defiant. "I withdrew from editing George Galloway's article, and the others," he wrote, "pending a potential Arbcom investigation. While I do accept I have a COI over Galloway, I have agreed not to edit that article and others for an indefinite period, which is not necessarily permanent, although I accept it may be wise to acknowledge it as such. Even so, that is not quite the same as accepting a topic ban, which I do not." Regarding other articles he had agreed not to edit, Cross alluded to his initial statement at the Administrators' Noticeboard: "the other articles which have been queried by interested parties, including the article about Oliver Kamm…." For the record, such queried BLPs include the other "goons" with whom Cross is in open conflict—Matthew Gordon Banks, Craig Murray, Nafeez Mosaddeq Ahmed, Tim Hayward (academic), Piers Robinson, and Media Lens—all of whose Wikipedia pages Cross has frequently edited.

Now comes the ArbCom case, which the committee has significantly broadened, expanding its scope to encompass the editing of Philip Cross in "the topic area of British politics, especially as it relates to potential violations of the Biography of living persons policy and/or the Conflict of interest guideline." At 14:09, 8 June 2018, Cross was notified via a new section at his user talk page, headed "BLP issues on British politics articles arbitration case opened."

Yet again, Cross remains defiant. Twenty-three hours after being informed that he is the subject of an arbitration case dealing with BLP issues on British politics articles, Cross made three edits to the BLP of a British politician, Lloyd Russell-Moyle. Philip Cross's continuing and provocative scorn for the community of Wikipedians suggests, to me at least, that decisive intervention by the Arbitration Committee is sorely needed. KalHolmann (talk) 18:25, 9 June 2018 (UTC)

At the risk of presenting evidence that ArbCom may have already received, I offer the following two articles, which are chockfull of relevant diffs, links and screenshots, and do not in any way "out" Philip Cross—who has after all assured us that his full name and year of birth are Andrew Philip Cross (born 1963), and insisted that, "Any claim my user name is an alias, or a meatpuppet account, is entirely false." He has also posted his Twitter user name, @philipcross63 (since changed to @philipcross1963). His Twitter profile in turn lists his location as UK.
---
The page Antisemitism in the UK Labour Party, while not a biography, contains a significant amount of content related to BLPs in British politics. The page is currently something of a WP:COATRACK of anti-semitism claims and rebuttals about Jeremy Corbyn. Many of the issues there are best considered content disputes, or are back-and-forth editing where single diffs may be unhelpful or misleading. That said, I feel several editors have a clear POV when editing that article. One of them is Philip Cross.

Regarding Philip Cross's edits, many involve a mural that Corbyn made comments about in 2012. The material regarding the mural was initially added by PC, and then reverted by Slatersteven with the comment Not about an incident on 2018, nor should this just turn into a list of every accusation against Corbyn, it should not be an attack page. (editmsg spelling fixed). I find the combination of [1] and [2] to be puzzling; I don't understand his standard for "fresh developments" here. He has also added material about Corbyn's anti-semitism to other articles, such as Jonathan Freedland and Chris Williamson. Overall, it appears that his objective here is to add material suggesting that Corbyn supports anti-semitic causes, and to minimize material claiming otherwise.

Cross is by no means the only problematic editor on this topic. Rather than provide diffs here showing POV and civility concerns by other editors, I point the committee to an ANI post by Tanbircdq on this topic about the editing of Alssa1 (and note that I expect follow-up posts in that thread to address editing concners of different editors). power~enwiki (π, ν) 15:48, 12 June 2018 (UTC)
---
Any newspaper worth its salt gives people room to answer accusation made against them. I am just looking into one example on Wikipedia: Tim Hayward (academic): when 'The Times' alleged that the group, which Hayward was part of, was spreading "disinformation" favouring the line of the government of Bashar al-Assad in the Syrian Civil War. Professor Hayward responded: "I do not accept that I am spreading 'disinformation'.,

User:Philip Cross then edit warred to keep Hayward response out of the article, only the accusation to remain: 21:47, 12 May 2018, 23:22, 12 May 2018 23:35, 12 May 2018...and lots and lots more, exactly the same, Huldra (talk) 23:07, 20 June 2018 (UTC)
---
As Philip Cross edits articles they become gradually less about the Person and more about the Media default for that Person. His edits are incredibly well delivered and read fluently and clearly. They also read as though they are managed by a hugely experienced and competent copy editor for a Mainstream Media outlet. In essence, his edits of Journalists tend to the fawning and his edits of non-journalists tend to the scathing.

I will not be editing any page edited by Philip Cross. Any edit would be removed, reverted, reworded: anything to prevent a non media image of living persons while ensuring that any genuine contributions can be undermined by the mumbo-jumbo of Wikipedian Jargonising. The entire affair has highlighted that editing Wikipedia should be left to the profession Public Relations and Journalists who, it seems, have decided that Wikipedia is "theirs". In essence: anybody with any interest in editing Wikipedia for British Politics is hounded out by Philip Cross.
---
I want to explain why I have been harping on so much about the harm to victims even though I have not been victimised myself. As an outsider, I perceive a definite mindset shared by most of the participants in this process that systematically focuses on the narrow question of whether edits conform to Wikipedia rules and standards and systematically ignores – or does not even see – the impact of the biased articles on human beings.

When Wikipedia allows an attack page to stand for months or years unfairly disparaging living people, it effectively supports online harassment of real and potentially vulnerable human beings by providing the harasser with a global platform and a large audience who are misled into belief in the harasser's unjust denigrations by Wikipedia's official myth of the Neutral Point of View.

Online harassment has been proven to cause severe harm to victims and can lead to depression and even suicide. I know that at least two of Cross's targets have contemplated suicide as a result of online harassment.

To be blunt, you people at Wikipedia need to break out of your insular internal culture a bit and remember that you are not just "editors" but human beings whose project impacts on other human beings and can cause significant harm to them even just through negligent inaction. That gives you a responsibility to be humane that I believe you have neglected and that is in the end greater than the responsibility you actually do perceive, i.e. to ensure the conformance of your website's content to your internal policies. 121.72.172.191 (talk) 08:40, 3 July 2018 (UTC)
---
More examples
We'll be updating this page with more examples, but in the meantime, you'll find plenty more examples of Cross' editing in the following documents prepared by Emma:
---
Don't trust what you read on Wikipedia!
Please spread the word to anyone who's unaware of the extent to which Wikipedia can be manipulated in this way.
Email a friend - Share on Facebook - Tweet about it
And if you'd like to see some action taken by Wikipedia, please tweet Jimmy Wales and let him know.
---
More information
Radio and podcasts
Articles on Philip Cross
Articles on Oliver Kamm
Discussion
---
Contact
If you'd like to get in touch about anything here, please email [email protected] or tweet us @fivefilters.
---
Article updates
Published 20 June 2018

Updated 20 June 2018

Updated 21 June 2018

Updated 23 June 2018

Updated 'More examples' section with link to doc by Emma looking at Cross' editing of Joan Ryan and Labour Friends of Israel
Added Neil Clark section
Expanded 'More information' section

Updated 30 June 2018

Added section 'Removing references to Media Lens on other Wikipedia pages'
Added more examples in 'Removing references to Clark from other Wikipedia pages'
Expanded 'More information' section with links to articles on Oliver Kamm
Expanded 'Cross' fixation with Oliver Kamm' section with examples of Cross adding Kamm into Wikipedia

Updated 4 July 2018

Added section 'Luke Harding'
Added 'Significant, persistent bias in Wikipedia causes personal harm' comment

Updated 7 July 2018

Updated Kamm section with Cross' edits removing criticism